Sound Relief Hearing Center
Dr. Julie Prutsman's Sound Relief Hearing Center combines family tradition with cutting-edge technology to provide our patients with the best tinnitus treatment and hearing solutions available. As a family-owned and operated practice with six tinnitus and hearing centers in Colorado and two in Arizona, we are proud to fulfill the needs and exceed the expectations of our patients.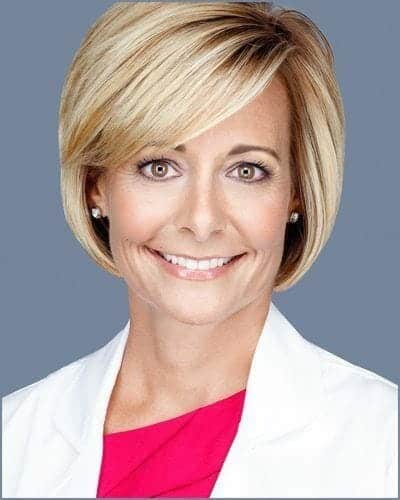 Treating Tinnitus and Improving Your Hearing Health
Sound Relief is hyperfocused on helping people with tinnitus and decreased sound tolerance. Nobody works with as many of these patients guiding through their personalized treatment plan than we do at our tinnitus and hyperacusis center.
Our niche specialty does not mean that we are not experts or that we're not passionate about helping people with other hearing issues. In fact, our patients are astounded by the care, attention to detail, and improvement in their quality of life provided by our doctors of audiology.
A Message from Dr. Julie
Three Generations of Hearing Care
Over twenty-five years ago, Dr. Julie Prutsman recalls watching her Uncle Bill, Aunt Alice, and mother Karen helping people with hearing loss and being instantly drawn to the profession. In fact, the family jokes that audiology must be "in the genes" since Dr. Julie's grandfather – George E. Herholtz – started his family in the profession in 1952 when he opened his first Beltone practice in Grand Rapids, Michigan.
For the past sixty years, the family's goal has been to offer professional, trustworthy, and compassionate care to those seeking better hearing and communication abilities. After 12 years of working in her parents' practice, Dr. Julie started the Sound Relief Hearing Center in her hometown of Highlands Ranch, Colorado. While continuing the family tradition, she has been fortunate enough to combine two of her passions: helping the people of Denver improve their quality of life through better hearing and serving the community. Dr. Julie strives to achieve this goal by educating the community about the latest advancements in hearing technology, as well as eradicating the misconception that nothing can be done to help people who suffer from tinnitus (ringing of the ears). She is an expert in finding the right treatment approach for each individual patient since no two cases of hearing loss or tinnitus are the same.
If you have any concerns about hearing or tinnitus, you owe it to yourself to visit Sound Relief Hearing Center and give Dr. Julie and her team the opportunity to earn your trust and showcase their service.
Specializing in Tinnitus Treatment
Sound Relief exists to change the misconception that nothing can be done to treat ringing in the ears. Since no two cases of tinnitus are the same, we will find the right tinnitus treatment for each individual patient. We only offer treatments that have been clinically proven to help the majority of patients that use them. If you suffer from tinnitus, you should definitely call us for help.
Following a comprehensive hearing test, our audiologists will be able to identify the specific cause of your tinnitus symptoms and develop a personalized treatment plan that works for you. Whether you're experiencing tinnitus as a result of age-related hearing loss, repeated exposure to loud noises, ototoxic medications with side effects that cause hearing damage, or even pulsatile tinnitus, our team can find a solution to improve the quality of your hearing.
Treating Hyperacusis
Hyperacusis is a hearing disorder that causes people to hear everyday sounds at such high levels that the experience can lead to anxiety, stress, or even physical pain. While far more rare than tinnitus, hyperacusis is a problematic health condition that can drastically impair the quality of life for those living with it. This increased sensitivity to sound waves can make even the most common noises, like an air conditioner or a conversation, challenging to experience.
Your Goals Are Sound Relief Goals
We promise to work closely with you to discover where you are having the most difficulty communicating. Then, we will collaborate with you to determine the best solution to increase your ability to hear and understand in the situations you describe. If that solution includes hearing aids or one of our tinnitus sound therapy options, then we will recommend the technology that:
1. Works best for your level of hearing loss.
2. Complements your lifestyle.
3. Fits within your budget.
Our Core Values
To understand our practice, it is important to understand the principles we strive to emulate.
1. Be People-Centered
Our focus on the patient is a top priority, but this extends to our team here at Sound Relief as well. We are a family-owned and operated company, and we want everyone (patients and employees) that walks through our doors to feel that sense of compassion and family. We also encourage our people to maintain a healthy work-life balance.
One of the big advantages of Sound Relief is our ability to collaborate with the top minds in the field of audiology. Our audiologists regularly work together to help find the best outcome for each patient.
2. Be Integrity Driven
The Prutsmans are the owners and founders of Sound Relief, and they believe everything about the practice reflects on them and their family legacy. Based on that, they do everything in their power to ensure that the practice operates at the highest moral and ethical standards. From the interactions and relationships with patients, employees, vendors, and insurance companies, dedication to this core value is clearly a guiding principle every day.
Dr. Julie also serves on the board of the American Tinnitus Association. She believes her involvement will help further their mission and improve the lives of people suffering from tinnitus.
3. Be Innovative
The field of audiology is always evolving. In order to stay ahead of the curve, Sound Relief dedicates tremendous resources to evaluating new technology and treatment techniques, improving existing systems and processes internally, and creating new tools to improve the overall patient experience.
One example is their development of the Transcending Tinnitus app that began in development in February 2021. While not yet released, this app will provide audiologists and patients with a great tool to conveniently manage their tinnitus treatment.
Developing a Long-Term Partnership
Above all, choosing the right audiologist is the most important decision in regard to your healthcare. The personal relationships you develop at Sound Relief Hearing Center will continue long after your initial appointment. We understand that ongoing counseling, periodic adjustments, and regular device cleanings are vital to your success. We will be here to support you every step of the way!
Call today to schedule your appointment: (720) 344-7600.