Sound Relief Tinnitus and Hearing Center – Denver
For those in the Denver metro area living with tinnitus, hyperacusis, or diminished hearing, you are not alone. These issues often take a toll on your overall quality of life, which can leave you feeling isolated, confused, and frustrated. At our Sound Relief Tinnitus and Hearing Center in Denver, Colorado, Dr. Drew Price and Dr. Senia Romero can provide the help you need and the relief you deserve.
Our Denver tinnitus and hearing center is located in Cherry Creek on the southwest corner of 1st Avenue and Madison Street in the Stewart Title Building.
We have great parking. There is a huge parking garage on the south side of the building, and visitor parking is marked in green.
Please don't be distressed if the first level of parking is full. We have four reserved parking spots marked as "Reserved for Sound Relief Hearing Center." They are located on the right side of the down ramp before you reach the basement floor directly across from Omni Eye Clinic's reserved spots.
There is also an elevator located in the basement level of the parking structure that takes you straight up to the 5th floor where our office is located.
Additional parking:
Free 2-hour street parking on both sides of Madison Street and East Ellsworth Avenue as well as 6 uncovered visitor spots located on the east side of the building from Cook Street. There is also a visitor parking lot at 44 Cook.
55 Madison Street #550
Denver, CO 80206
(720) 863-4366
Fax: (303) 223-9371
Hours of Operation:
Monday – Thursday: 8:30 am – 5:00 pm
Friday: 8:30 am – 1:00 pm
Your Denver Audiologist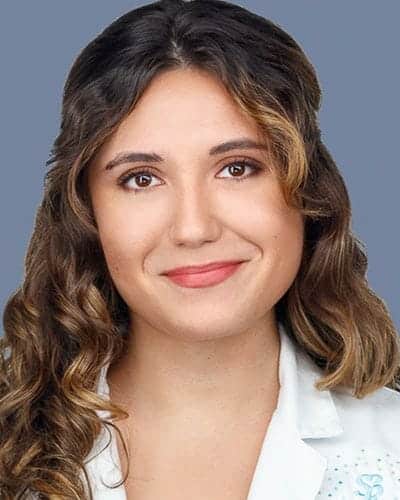 Dr. Senia Romero, Au.D., CCC-A
Senia earned her bachelor degree in Speech, Language, and Hearing Sciences from the University of Washington in Seattle, Washington, and her clinical Doctorate of Audiology (Au.D.) from the University of Colorado Boulder. Her interest in audiology started when her nephew was diagnosed with hearing loss, shortly after his birth. From there, her interest has grown into a passion of improving the quality of life of her patients and their families, by exploring the best options unique to their hearing and tinnitus needs.
Dr. Romero is a member of the American Speech-Language-Hearing Association, from which she received her Certificate of Clinical Competence. She also holds a license in audiology from both Colorado and Washington state.
Senia enjoys exploring new cities, restaurants, and breweries, with her family and friends. While originally from Seattle, she happily moved back to Denver in 2021. However, you'll still find her rooting for the Seattle Seahawks on football Sundays!
Your Denver Audiology Support
Lilly O'Shea – Patient Care Coordinator
Lilly joined the Denver office in January 2021. She is a Denver native but received her bachelor's degree from the University of North Carolina at Chapel Hill. With a background in the hospitality industry, she enjoys working with a variety of people from different walks of life. In her free time, she enjoys soaking up the 300+ days of Colorado sunshine!

Audiology Services
If you are experiencing a constant ringing or buzzing sound in your ears, you may be living with tinnitus. Tinnitus is characterized by the perception of sound when no external source for this sound actually exists. The severity of tinnitus varies with each individual and can adversely impact your personal relationships and interfere with your enjoyment of daily activities.
One of the most effective methods to treat tinnitus is Tinnitus Retraining Therapy (TRT). TRT treats both the symptoms and the source of tinnitus by using advanced sound therapy. Counseling, hearing aids, and relaxation methods are other available treatment options.
Do everyday sounds, such as chewing, watching television, or even just a conversation ever become too annoying or even painful? If so, you may be experiencing hyperacusis, which is an uncomfortable, heightened sensitivity to sound. Severity varies for each individual and can lead to migraines, ear pain, and constant discomfort. Scheduling an appointment with Dr. Price is a great first step to finding relief.
If you notice a change in your hearing, you should schedule a hearing test. They are quick and easy and provide your audiologist with helpful information about your overall hearing health. Hearing tests include a review of your medical history, an ear examination, and diagnostic tests that measure your ability to hear and understand certain frequencies and words.
Dr. Price will help you find the perfect hearing aid for you. These technological marvels can be life-changing, but you need devices that you love and an audiologist committed to ensuring that they are programmed and fit perfectly.

Wax Removal
A lot of the time ear wax build-up is the culprit for tinnitus and hearing loss. Removing ear wax is a delicate process and can take some time. We definitely recommend scheduling an appointment for wax removal. We charge between $50 – $100 per ear depending on how much time it takes.
Patient Reviews


Cathy q S.
14:36 11 Oct 21
The team at Sound Relief offered me a life changing experience..The isolation and lack of confidence I came in with due to both hearing loss and tinnitus was absolutely overwhelming effecting both my professional and personal life.The team listened and was determined to create a plan that would enhance my quality of life.After suffering from this constant ringing and intrusive buzzing for over 20 years I am so grateful to have made the call to Sound Relief and most of all Dr Drew.My life is better because of you Dr DrewCathy S.

The recommendations were evidence-based. The initial months of fitting and adjusting made my aids much more useful in different settings. Two years later, they remain helpful in solving minor tech glitches.


Dr. Price is the best!!! She made the process of getting new devices so simple and painless. Love her.

Marilee B.
23:34 25 Aug 21

I can't say enough good things about Sound Relief, and Dr. Drew Price in particular. I was experiencing some pain and discomfort in one of my ears and she was able to see me right away and I walked out of there feeling completely better. She has also helped me in the past with molds and filters for Sensaphonics ear plugs which I use all the time for concerts and other loud events. Dr. Price is very thorough, knowledgeable, and just a great human being - I'd recommend her to anyone with any sort of hearing-related needs!

Due to an ear virus, I ended up with hearing issues and tinnitus. Lucky me. To say that I was devastated would be understatement. Some research led me to Sound Relief and Dr. Price. Dr. Price diagnosed my problems and quickly got me on the road to recovery. There was no messing around. And after a few months I'm already doing much better. She's highly knowledgeable, a true professional, and motivated to help her patients. And emotionally supportive too, as I was a bloody mess when I first went in.Tinnitus is a nasty affliction but there's help out there with Dr. Price. For the first time in months I feel like myself again. I would do it again in a heartbeat..

I dealt with Dr. Romero and she was awesome! Super patient with me and definitely gave me some strategies that helped improve my Tinnitus.

I have been hard of hearing my entire life, and have seen many doctors. Drew Price has absolutely changed my whole hearing experience. She is creative and relentless in solving problems. For the first time I have clear hearing in both ears, and I am so grateful. I cannot recommend her highly enough!

Dr. Price was incredibly knowledgeable and thorough during my appointment with her. I've been to several ENTs before this and she impressed me the most by far. Very professional with a great demeanor, but also incredibly knowledgeable and insightful about what she can do to help. Dr. Price also respected my financial concerns and pointed me in the right direction for resources that I could explore myself. I would highly recommend Dr. Price and this clinic for people that want a thorough examination and possible solutions regarding tinnitus.

Scheduled an appointment with Dr. Price and I was blown away by the level of detail and expertise shown by her practice. Five stars is not enough. Dr. Price has a passion for her work that is contagious, the courage to show her vulnerability to relate to your vulnerabilities, and the kindness to create enough space so that you leave your appointment feeling heard and not rushed, like many other doctors tend to do. I met her at this appointment, but I felt like I've known her for years. Just a wonderful and engaging personality. That's not even going into the welcoming reception from Lilly at the front desk and the beauty of the office they work within. This group is phenomenal. I can't stress this enough. If you're on the fence about scheduling a consult with Dr. Price, you really just need to pick up the phone and make that call.

The patience and understanding that Dr Price and the staff at SR have shown us second to none. Tinnitus is one of the most frustrating experiences to try and fix. Even after going for treatment, the process is tough but Dr Price, Lilly and team have made it a much easier journey!

Sequoyah H.
17:54 30 Mar 21
Dr. Price is an excellent Audiologist! Very professional, insightful and great to work with. Highly recommend!

I live in MS and have been seeing Dr Drew Price since 2008. My daughter lives in Denver and on one of our trips to visit, I made the decision to make an appointment with Sound Relief Hearing Center. The Doctor to see was Drew Price. It was the best decision I've made regarding my hearing! I had worn hearing aids for over 20 years with marginal effectiveness. The first day my wife and I visited Dr Price, we knew I had made the right decision! Dr Price is a very knowledgeable and caring doctor and wants the best for her patients. I've been very pleased with their service and would recommend her and her staff to anyone with hearing loss.

Jaelynn M.
15:24 23 Mar 21
Dr. Price made my first visit very personable and special! She was super cool and informative! I learned so much about my ears and got the solutions I wanted/needed. Thank you Dr. Price!!!

My Audiologist is the absolute best in the business, If there is a cure for tinnitus, Drew will discover it. The staff is right on point as well. I am always met with warm friendly eyes ( I cant see their smiles under their mask but I know they are. Always very pleasant and professional. If I could give 100 stars I would.

I was suffering severe tinnitus along with other ear and hearing issues such as extreme sound sensitivity, ear popping and fullness, this all came on after a severe bout of anxiety that lasted a few months, the anxiety subsided but the hearing issues stayed. I tried everything, saw multiple ENT doctors who all told me there is nothing I can do except live with it. I was depressed and loosing hope, then I met DR. Price, it was a relief just to have someone give me answers and tell me I was going to get better I have been doing sound therapy for about six months now and amazed how much better my symptoms are, my sensitivity is almost gone the fullness is gone completely there is still tinnitus but much quieter and most of the time I dont even notice it, I have my life back and its only getting better. I cant thank DR. Drew Price enough. I highly recommend sound relief

I struggle with hyper sound/light sensitivity due to brain trauma and Dr Drew has helped me with sound therapy in ways I never thought possible!!I went in for tinnitus and have been helped on this as well. Because of my severe migraines the tinnitus is a pain trigger and now I am happy to report the sound therapy is truly beneficial.Every time I go into the Sound Relief office or have a WiFi appointment it is a pleasant experience.

Tinnitus is terrible... and for anyone who has it, you know this. I struggled for three years, day and night. Woke up from a dead sleep with the ringing more than a few times. Have difficulty reading, stopped playing my saxophone, and do not enjoy listening to music because it is so irritating. I did not believe that Dr. Drew Price at Sound Relief or anyone else could really help. However, I am on my third month of sound therapy and so far, I really do have some relief. Not only did Dr. Price help me decrease the ringing, she understands the nightmare. I totally recommend that if you are in this position of "crazy ringing", you call her, talk with her, and challenge her with your questions. I hope you too find some relief like I am in the process of doing now. THANK YOU DR. DREW PRICE... I am starting to feel like myself again... and today picked up a new saxophone...

I cannot recommend Dr. Drew Price and the Sound Relief team highly enough! I was experiencing significant hearing loss, and Dr. Price tested my hearing and explained what my options were. She took the time to answer all my questions, and then even interfaced with my health insurance provider to get me the hearing device I needed. Now I can be conversational again without having to ask people to repeat themselves. She saved my hearing! I'd give her 50 stars if I could.
Virtual Tour