Sound Relief Tinnitus and Hearing Center – Denver
For those in the Denver metro area living with tinnitus, hyperacusis, or diminished hearing, you are not alone. These issues often take a toll on your overall quality of life, which can leave you feeling isolated, confused, and frustrated. At our Sound Relief Tinnitus and Hearing Center in Denver, Colorado, Dr. Drew Price and Dr. Senia Romero can provide the help you need and the relief you deserve.
Our Denver tinnitus and hearing center is located in Cherry Creek on the southwest corner of 1st Avenue and Madison Street in the Stewart Title Building.
We have great parking. There is a huge parking garage on the south side of the building, and visitor parking is marked in green.
Please don't be distressed if the first level of parking is full. We have four reserved parking spots marked as "Reserved for Sound Relief Hearing Center." They are located on the right side of the down ramp before you reach the basement floor directly across from Omni Eye Clinic's reserved spots.
There is also an elevator located in the basement level of the parking structure that takes you straight up to the 5th floor where our office is located.
Additional parking:
Free 2-hour street parking on both sides of Madison Street and East Ellsworth Avenue as well as 6 uncovered visitor spots located on the east side of the building from Cook Street. There is also a visitor parking lot at 44 Cook.
55 Madison Street #550
Denver, CO 80206
(720) 863-4366
Fax: (303) 223-9371
Hours of Operation:
Monday – Thursday: 8:30 am – 5:00 pm
Friday: 8:30 am – 1:00 pm
Your Denver Audiologist
Dr. Breanne Schwartz, Au.D., CH-TM
Born and raised in Tampa, Florida, Breanne earned her undergraduate degree in Communication Sciences and Disorders from the University of Central Florida and her Doctorate of Audiology from the University of South Florida. She completed her residency at the Rocky Mountain Regional VA Medical Center in Aurora, Colorado where she fell in love with the state. She loves being an audiologist because she can assist her patients with reconnecting to the world around them by improving their hearing and helping them manage their tinnitus.
Outside of work, Breanne enjoys trying new restaurants and coffee shops around Denver as well as exploring all the outdoor activities that Colorado has to offer. She is a huge hockey fan and will always cheer for her hometown team, the Tampa Bay Lightning.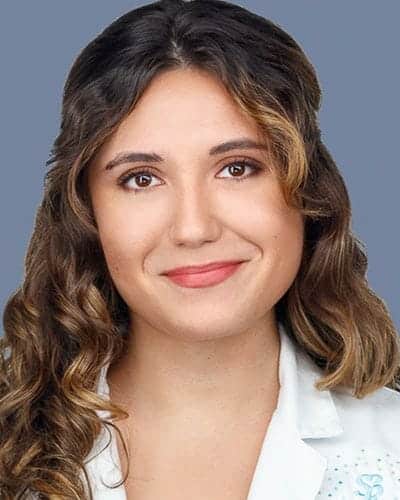 Dr. Senia Romero, Au.D., CCC-A, CH-TM
Senia earned her bachelor's degree in Speech, Language, and Hearing Sciences from the University of Washington in Seattle, Washington, and her clinical Doctorate of Audiology (Au.D.) from the University of Colorado Boulder.
Her interest in audiology started when her nephew was diagnosed with hearing loss, shortly after his birth. From there, her interest has grown into a passion for improving the quality of life of her patients and their families, by exploring the best options unique to their hearing and tinnitus needs. Dr. Romero also sees patients at our Centennial location.
Dr. Romero is a member of the American Speech-Language-Hearing Association, from which she received her Certificate of Clinical Competence. She also holds a license in audiology from both Colorado and Washington state.
Senia enjoys exploring new cities, restaurants, and breweries, with her family and friends. While originally from Seattle, she happily moved back to Denver in 2021. However, you'll still find her rooting for the Seattle Seahawks on football Sundays!
Audiology Services
Patient Reviews
Virtual Tour