Sound Relief Hearing Center – Denver
55 Madison Street #550
Denver, CO 80206
(720) 863-4366
Fax: (303) 223-9371
Our Denver tinnitus and hearing center is located in Cherry Creek on the southwest corner of 1st Avenue and Madison Street in the Stewart Title Building.
We have great parking! There is a huge parking garage on the south side of the building, and visitor parking is marked in green.
Please don't distress if the first level is full. We have four reserved parking spots marked as "Reserved for Sound Relief Hearing Center". They are located on the right side of the down ramp before you reach the basement floor directly across from Omni Eye Clinic's reserved spots.
There is also an elevator located in the basement level of the parking structure that takes you straight up to the 5th floor where our office is located.
Additional parking:
Free 2 hour street parking on both sides of Madison Street and East Ellsworth Avenue as well as 6 uncovered visitor spots located on the east side of the building from Cook Street. There is also a visitor parking lot at 44 Cook.
Hours of Operation:
Monday – Thursday: 8:30 am – 5:00 pm
Friday: 8:30 am – 1:00 pm
Our Hearing Health Professionals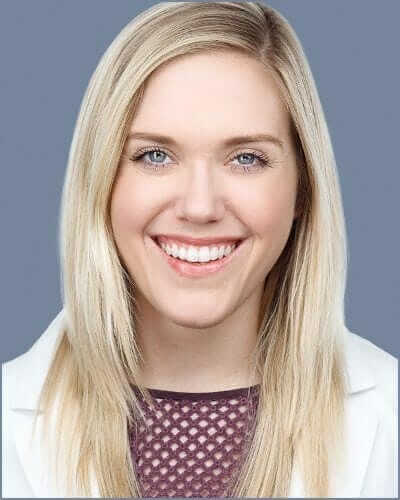 Dr. Drew Price, Au.D., FAAA
Drew specializes in hearing wellness and conservation for the music industry. Whether you're a fan, crew member, or  musician, she can provide the most comprehensive solution for your individual needs. Her emphasis on this aspect of audiology goes hand in hand with her focus on tinnitus treatment and hearing protection.
She earned her Doctorate in Audiology from Rush University Medical Center in Chicago, Illinois, and completed her Bachelor of Science degree from Louisiana State University in Baton Rouge, Louisiana. As a second-generation audiologist, she has grown up seeing firsthand how important hearing wellness is to quality of life.
Drew is also a pastor's kid, so she grew up in Florida, Arkansas, and finally landed in Louisiana, where her family still resides. Drew fell in love with Colorado at a very early age, so she knew this state would eventually become her home. She moved here in 2015 to finish her Doctor of Audiology residency at UC Health and has been here since! In her free time, she enjoys hiking, skiing, cooking, traveling, and live music.
Dr. Samantha Ewing, Au.D., CCC-A, FAAA
Samantha is originally from Minnesota, where she obtained her bachelor of science degree in Communication Sciences & Disorders and her bachelor of arts degree in Communication Studies.
After earning her bachelor's degrees, Samantha worked within the hearing aid industry. She received her doctorate in Audiology from the University of South Dakota. Samantha and her husband, Jerod, moved to Colorado to complete her audiology residency. She is a Fellow of the American Academy of Audiology and received her Certificate of Clinical Competence from the American Speech-Language-Hearing Association.
She has previous experience working with children and adults in private practice, educational, and hospital settings. Samantha is passionate about helping improve hearing, tinnitus, and overall communication in order to positively impact quality of life. Outside of work, she enjoys being with her family, spending time outdoors, watching and playing sports, and reading.
Courtney Schneider – Patient Care Coordinator
Courtney has been our Patient Care Coordinator for the Cherry Creek office since March 2019. She is a Colorado native – just down the road in Englewood Colorado.
Compassionate patient care is important to Courtney which is why she fits in so well with us at Sound Relief. "Seeing the profound difference our team makes in our patients' lives is one of the many ways I know I am in the right place."
Outside of Sound Relief, you can find Courtney enjoying family time with her husband and daughter, Zoey. She enjoys baking sweet treats for family and friends and visits the Denver Zoo often.

Do you live with tinnitus? It is characterized by an awareness of a sound not caused by an external noise. Although tinnitus will not trigger hearing loss, it may negatively affect your daily routine, your relationships, your career, and your ability to relax and enjoy life. Whether it lingers in the background or dominates your sense of hearing, tinnitus can disrupt your day and leave you feeling frustrated and exhausted. If you live in our around Denver, contact our Colorado tinnitus clinic in Cherry Creek. Dr. Price can evaluate the severity of your tinnitus and recommend a personalized solution to treat your unique symptoms.
Widex Zen Tinnitus Treatment
ReSound LiNX Quattro with Made-for-iPhone Tinnitus Relief App
Oticon Tinnitus SoundSupport™
Tinnitus Retraining Therapy (TRT)
If you schedule a hearing evaluation at our Denver hearing center, we will begin by asking you a few questions about your medical and hearing history. Next, we will use a lighted otoscope to inspect your outer ear and ear canal for any abnormalities. We will pay special attention to any malformations that could impact your hearing test results or require a visit to an ear, nose, and throat (ENT) doctor. After that, we will conduct a hearing test in a soundproof booth to determine which specific frequencies you struggle to hear.
During an audiometric exam, the audiologist will ask you a series of high-frequency and low-frequency words to determine how well you can understand speech over a short distance. In addition, we will give you several words to repeat back to us. The results of these simple tests will help us better understand your ability to hear and understand speech. In addition, we will explore whether or not hearing aids could help alleviate your symptoms.
Tympanometry
Tympanometry tests the health of the middle ear and the mobility of the conduction bones and the eardrum (tympanic membrane). To accomplish this, the exam utilizes specialized equipment to produce variations in air pressure within the ear canal. Not technically a hearing exam, tympanometry measures energy transmission through the middle ear.
You can purchase hearing aids at hundreds of different places in Colorado. So why should you purchase hearing aids from Sound Relief Hearing Center? We offer thorough hearing tests, decades of experience, and personalized treatment plans. Plus, we only offer the best hearing aids available, and we provide a variety of options designed to meet any budget. To ensure that your selected hearing aid produces great results, we can customize the device to suit your needs and preferences. Above all, we promise to make your experience memorable and to provide you with the greatest return on your investment in your hearing health.
Wax Removal
Cerumen, more commonly known as ear wax, is a yellowish, wax-like substance secreted in the ear canal. It protects and cleans the skin of the ear canal and assists with lubrication. Plus, it can protect the ear from bacteria, fungi, insects, water, and other unwelcome matter. However, sometimes ears produce too much ear wax, and it may become impacted and press against the eardrum. This impaction can impair your ability to hear and produce general discomfort. For help, contact Sound Relief Hearing Center. We can use specific tools and techniques to safely remove the ear wax.

Patient Reviews
Write a review