ReSound Hearing Aids
Hearing loss is a common contributor to tinnitus. Tinnitus typically manifests as a ringing, buzzing, or clicking in the ear without an external source. Many people with hearing loss experience tinnitus symptoms but struggle to find effective ways to treat their tinnitus. Finding effective tinnitus relief can be difficult. Fortunately, technology for tinnitus and hearing devices continue to raise the bar.
ReSound has emerged as one of the top hearing aid manufacturers for people with tinnitus. They were the first company to have hearing aids that connect to the iPhone. At Sound Relief, our audiologists offer several styles and technology levels of ReSound hearing aids. Small, powerful, and easy to use, ReSound devices provide a brilliant sound experience with rich and full layers of sounds. Plus, to ensure exceptional convenience, they sync with your smartphone and can be customized and fine-tuned through the corresponding app.
However, what truly sets ReSound apart is its ReSound Relief app. This app offers a potent combination of sound therapy, relaxation exercises, meditation, and guidance, all of which can be streamed to your wireless hearing aid. Their tinnitus masking feature even allows those with tinnitus to make their own soundscapes, which, in combination with sound therapy, can be a powerful source of tinnitus relief at your fingertips.
To take advantage of these features, you'll need to download the ReSound relief app and have Bluetooth-enabled speakers. Powered by state-of-the-art technology, including a new chip platform and the longest battery life available, ReSound hearing aids are a popular option for those looking for tinnitus relief.
ReSound Nexia™, released October 12th, 2023, is an innovative solution designed for individuals with mild to profound hearing loss. It offers advanced technology and features to assist patients, including Bluetooth® Auracast™ and Organic Hearing™. The product is available in the smallest rechargeable style, the Micro RIE, and non-rechargeable standard RIEs, making it suitable for a wide range of users.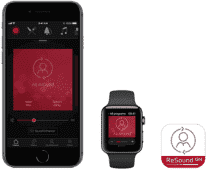 5 Remarkable Features of ReSound Nexia:
1. Top Rated for Hearing-in-Noise
ReSound Nexia offers improved hearing-in-noise capabilities, ensuring that you can hear more clearly in challenging acoustic environments, such as theaters, airports, restaurants, and arenas. Nexia is exceptional for hearing-in-noise and delivers exceptional speech understanding.
2. Cutting Edge Bluetooth® LE and Auracast™
Nexia is powered by Bluetooth LE audio and Auracast™ broadcast audio technology, aligning with their central focus on improving hearing in noise. This combination is set to transform your listening experience, enabling you to connect seamlessly to your devices and receive Auracast broadcast audio technology – a first for hearing aids. This feature unlocks new streaming and communication opportunities.
3. Size, Discretion, and ReSound's New CROS/BiCROS Technology
ReSound Nexia comes in an incredibly compact design. The Nexia Micro RIE is 25% smaller than the standard RIE (receiver-in-ear) and has an accelerometer for hands-free audio streaming for iPhones and iPads, without sacrificing any battery life. Nexia also features ReSound's first CROS/BiCROS product, tailored to assist individuals with single-sided deafness. It is available in four Receiver-in-Ear (RIE) models, whether you prefer disposable batteries or rechargeable options, Nexia has it. The four available RIE models are:
Nexia Micro RIE: Rechargeable, push-button, and tap controls, no telecoil, compatible with Cochlear™ Nucleus® sound processors
Nexia Micro RIE CROS: Rechargeable, push-button, no telecoil
Nexia RIE 312: Disposable Size 312 battery, push-button, no telecoil
Nexia RIE 13: Disposable Size 13 battery, push-button, telecoil
4. The TV Streamer+
For those seeking immediate speech clarity at their preferred TV volumes, ReSound is introducing their new TV Streamer+. This device is designed to work seamlessly with Nexia and is also Auracast-ready. You can use it to stream audio and even switch to broadcast mode, which operates on low energy and the new codec. The TV Streamer+ allows you to stream TV at your preferred volume without compromising the TV volume for anyone else watching.
5. User Reactions
A ReSound study found that 89% of users recommend Nexia for hearing in noise over legacy technology. ReSound is committed to addressing the patient's primary concern, which is speech understanding in noise environments. In addition to the accelerometer for tap controls, Nexia continues to build upon signature technologies, such as 360 All-Around Directionality, the unique M&RIE receiver technology, and the Check My Fit app feature. Nexia is available in 8 different colors and rest assured you'll experience the highest standards in moisture and debris resistance (IP68) for hearing aids.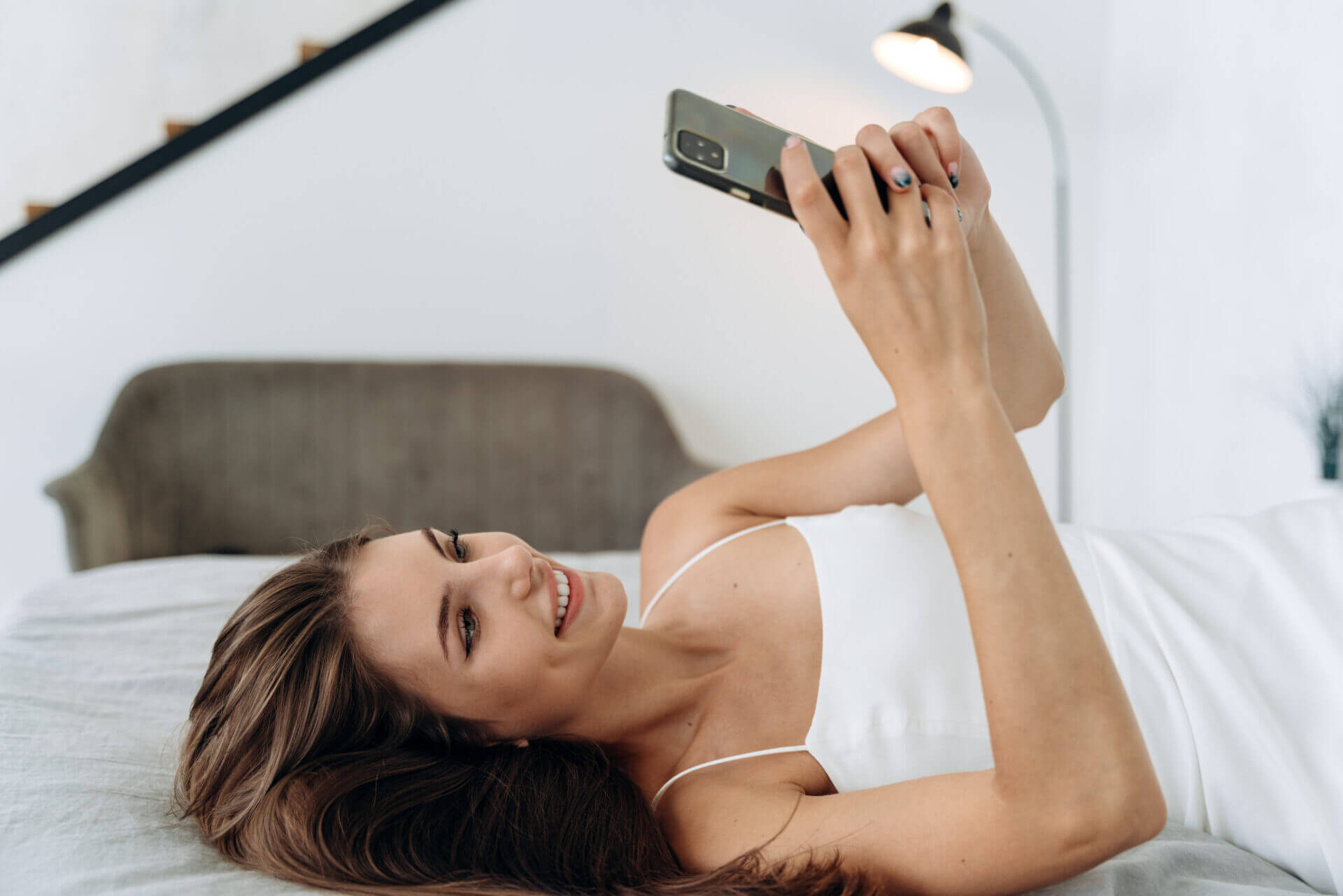 The ReSound Smart 3D App
The ReSound app converts your smartphone into a remote control for your hearing aids. You can instantly and wirelessly adjust the details of your sound experience – including the volume, pitch, and program – using the app, which is compatible with Apple and Android mobile devices. All of the following features are included:
One-Tap Access
Everything you need for a quick adjustment is located on the start screen, so you won't waste any time fine-tuning your hearing devices on the go.
Tinnitus Management
Do you suffer from tinnitus? The ReSound app might be an option for you. As mentioned, it offers users relief from tinnitus with soothing background sounds that can distract you from the constant buzzing or hum in your ears. You can use their pre-set soundscapes or import your own favorite relief music to mix with calming sounds like pink noise or ocean surf. Customize these unique soundscapes to suit your needs even further with the ReSound Relief App with the help of your doctor.
Personalized Settings
Every case of hearing loss or tinnitus is unique. ReSound's technology allows you to customize your experience so that you can focus on the sounds that matter to you: conversations with family, the laughter of a friend, music playing, birds chirping, and so much more. You can create and save your favorite settings so that they're easy to put into action.
Remote Fine-Tuning
If you need assistance adjusting your ReSound hearing aid, you can send a request to your audiologist through the app. You will answer a few short questions to describe your experience. Your audiologist will then use this information to send a new setting through the app.
Geotagging
As you go about your day, the app will save your favorite settings at frequented locations. When you return to those locations later, the app will automatically switch to your preferred settings. For example, when you walk into the office or the gym, the app will know and automatically adjust to the settings you favor in those locations.
Track Your Devices
With the ReSound app, you'll never lose your hearing instruments again. With its "Find My Hearing Aid" function, the app connects to your devices and tracks them so that you can see where they're located on a digital map.
Check the Battery
You can check the battery power of your rechargeable hearing devices through the app. When recharging the devices, the app will alert you once the devices are fully charged and ready to use.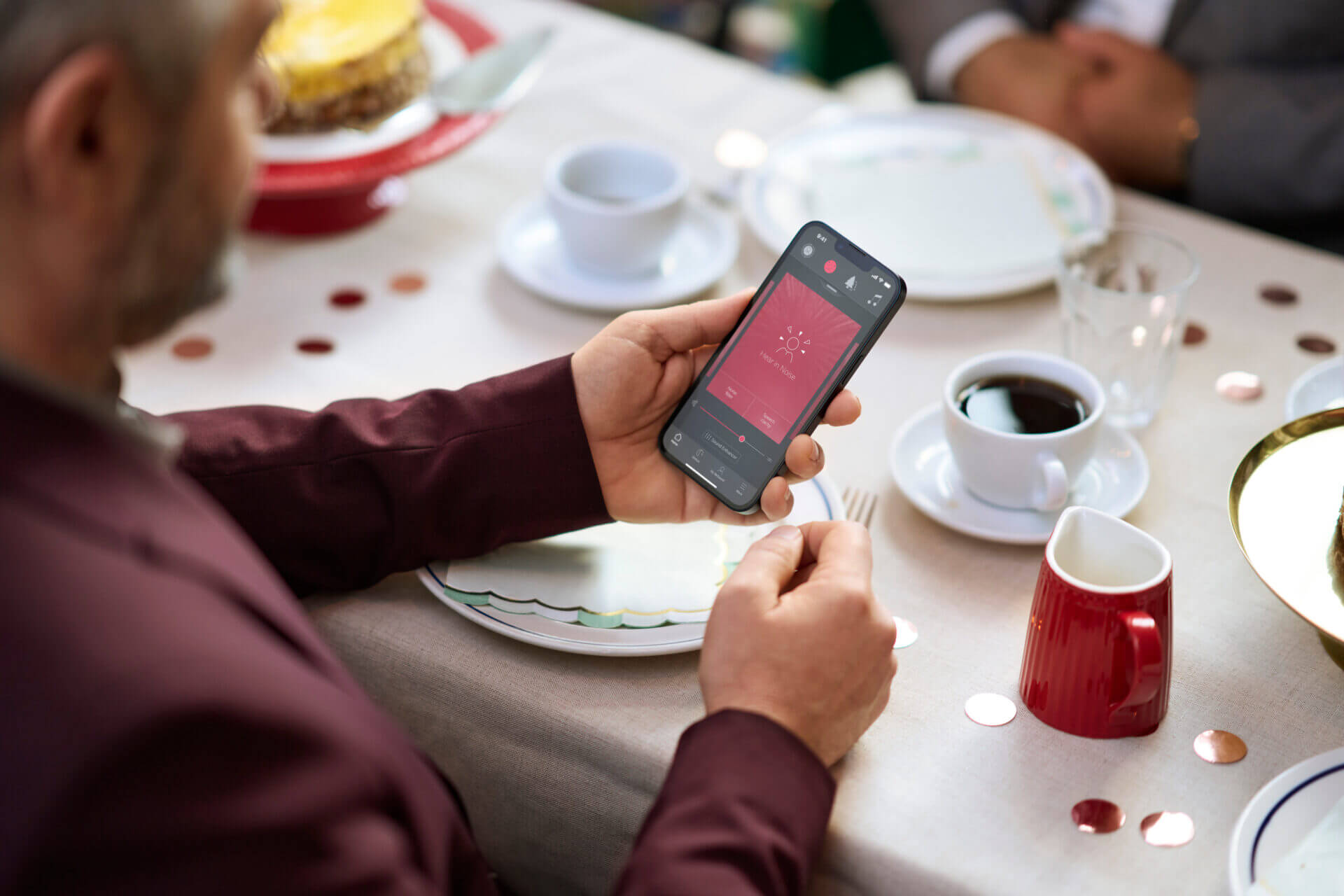 Summary
All of these features make it easier to relax in complex listening environments, such as those with loud background noise, which in turn can help reduce tinnitus perception. Schedule an appointment with one of our audiology experts to learn how these new advancements might benefit you.