Technology for tinnitus and hearing devices continues to raise the bar. With the ReSound LiNX QuattroTM, our audiologists offer hearing instruments that can be combined with sound therapy to treat tinnitus. Small, powerful, and easy to use, ReSound LiNX Quattro devices provide a brilliant sound experience with richer and fuller layers of sounds. Plus, to ensure exceptional convenience, they sync with your smartphone and can be customized and fine-tuned through the corresponding app.
Powered by state-of-the-art technology, including a new chip platform and the longest battery life available, ReSound LiNX Quattro devices offer several groundbreaking benefits. To access these benefits, you'll need to download the ReSound Smart 3D app.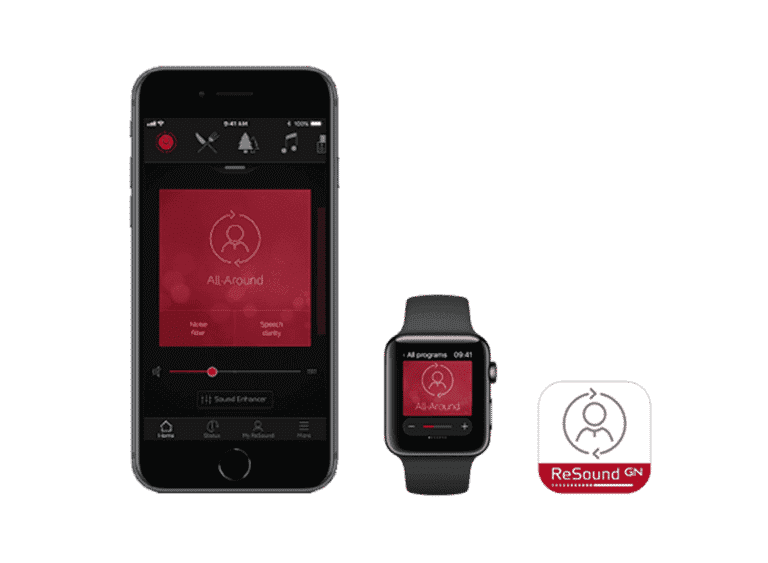 The ReSound Smart 3D App
The ReSound Smart 3D app converts your smartphone into a remote control for your hearinginstruments. You can instantly and wirelessly adjust the details of your sound experience – including the volume, pitch, and program – using the app, which is compatible with Apple and Android mobile devices. All of the following features are included:
One-Tap Access
Everything you need for a quick adjustment is located on the start screen, so you won't waste any time fine-tuning your hearing devices on the go.
Tinnitus Management
Do you suffer from tinnitus? The ReSound Smart 3D app can help. It offers users relief from tinnitus with soothing background sounds that can distract you away from the constant buzzing or humming in your ears. You can use their pre-set soundscapes or import your own favorite relief music to mix with calming sounds like pink noise or ocean surf. Customize these unique soundscapes to suit your needs even further with the ReSound Relief App with the help of your doctor.
Personalized Settings
Every individual case of hearing loss or tinnitus is unique. ReSound's technology allows you to customize your experience so that you can focus on the sounds that matter to you: conversations with family, the laughter of a friend, music playing, birds chirping, and so much more. You can create and save your favorite settings so that they're easy to put into action.
Remote Fine-Tuning
If you need assistance adjusting your hearing device, you can send a request to your audiologist through the app. You will answer a few short questions to describe your experience. Your audiologist will then use this information to send a new setting through the app.
Geotagging
As you go about your day, the app will save your favorite settings at frequented locations. When you return to those locations later, the app will automatically switch to your preferred settings. For example, when you walk into the office or the gym, the app will know and automatically adjust to the settings you favor in those locations.
Track Your Devices
With the ReSound Smart 3D app, you'll never lose your hearing instruments again. With its "Find My Hearing Aid" function, the app connects to your devices and tracks them so that you can see where they're located on a digital map.
Check the Battery
You can check the battery power of your rechargeable hearing devices through the app. When recharging the devices, the app will alert you once the devices are fully charged and ready to use.
Summary
All of these features make it easier to relax in complex listening environments, which in turn can help reduce tinnitus perception. Schedule an appointment with one of our audiology experts to learn how these new advancements might benefit you.
Want to Learn More?
Schedule an Appointment