Control Your Tinnitus
Tinnitus is a common problem that affects millions of people of all ages. Tinnitus is the perception of an outside noise, often a slight buzzing or ringing sound, when there is no actual external stimuli causing the sound. Tinnitus is not a health condition itself, but rather, a symptom of an underlying health problem. Some of the most common causes of tinnitus include repeated exposure to loud noises, head or neck injuries, age-related hearing loss, and more.
Since no one else can hear the sounds of tinnitus, this can make it a very frustrating and stressful problem to live with. Over time, tinnitus can make it difficult to communicate, lead to challenges at work and in social settings, and even lead to anxiety, insomnia, or depression. While there is no cure for tinnitus, similar to type-1 diabetes, we can help you manage your symptoms so that you can enjoy your life.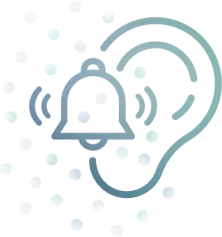 Manage Your Hyperacusis
According to the American Speech-Language-Hearing Association, hyperacusis is a hearing disorder that causes people to experience everyday noises at such high levels that it causes irritation, anxiety, or even physical pain.
While rare, hyperacusis can make the daily life of those who suffer from it difficult and uncomfortable. Not only do those with hyperacusis have difficulty being around excessively loud noises, like an airplane, gun firing, or live music, but even moderate to soft environmental sounds, such as emptying your dishwasher or someone speaking loudly, can be challenging to adapt to.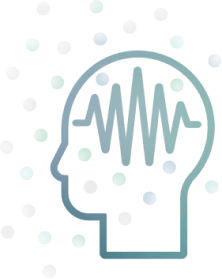 Address Your Hearing Loss
Hearing loss occurs when any part of your auditory system is not working as it should. Hearing loss can result from an issue in the outer ear, middle ear, inner ear, or even along the auditory nerve. Hearing loss can range from mild to profound and affects each individual differently. There are four primary types of hearing loss, including conductive hearing loss, sensorineural hearing loss, mixed hearing loss, and auditory neuropathy spectrum disorder. We can identify the specific type and cause of your hearing loss to develop a personalized hearing optimization plan that works for you.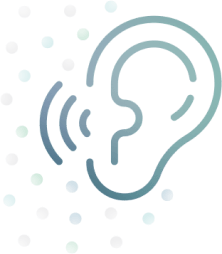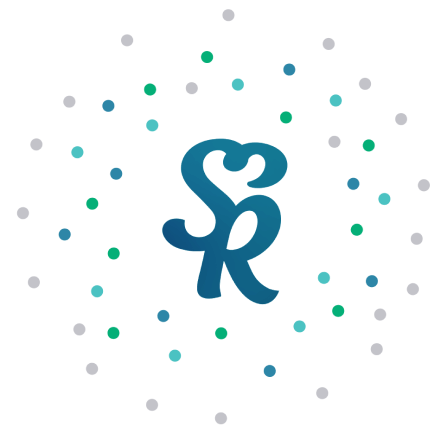 Sound Relief Hearing Center Providing Hearing Care Since 2011.
If you are living with unresolved hearing issues such as tinnitus, sensitivity to sound, or difficulty hearing in background noise or groups, you are not alone.
Most people naturally compensate by using visual cues and the context of a conversation. Others try to block out or ignore unwanted noises competing for their attention. While these strategies may work for the short term, they deplete our energy and cognitive reserve.
Ultimately, relationships become strained, emotions are more difficult to control, and by the end of the day, you have nothing left.
Thankfully, you do not have to live that way. You should be able to live your best life.

Ready to change your life?
Schedule an Appointment
We will evaluate your entire situation and check your health insurance before you come in.
Comprehensive Evaluation & Testing
When you come in to meet with us, we will thoroughly test and evaluate your auditory health.
The Help You Need
Experience the difference experience makes. Many of our patients say they wished they had come to see us sooner.
Patient Reviews

The clinic in Highlands Ranch was very professional and it actually worked. I have taken my mom to a couple different audiologist, but we finally found one that could help. Thanks Doc. Now I don't have to listen to my mom complain all the time.
I had no idea what tinnitus was until I saw one of Dr. Julie's commercials. I just knew something was bothering me. It finally got so bad that I made an appointment. They walked me through the entire process, and I am well on my way to getting rid of it once and for all. I don't know what I would have done without the Sound Relief Hearing Center.
I just want to give a HUGE thanks to everyone at the Sound Relief Hearing Center. From Dr. Julie all the way down, everyone was incredibly professional and most importantly they were able to get me fitted with a hearing aid that was comfortable and effective. So glad I decided to see Dr. Julie!
My husband and I have tried many different audiologists, and we have purchased many different hearing aids over the years. Luckily, we found Dr. Julie, and she sure is something special. She had many different styles to choose from, and her knowledge, professionalism, and patience was remarkable. I am telling all of my friends, and thank you Dr. Julie!!
My primary care doctor referred me to an ENT for my tinnitus. Both of them said I would just have to live with it. Thank God I saw Dr. Julie's commercial and came in to get her opinion. I really feel that she saved my life. If the ringing got any worse, I was going to have to take matters into my own hands. She put the Widex with the Zen program on me and my tinnitus was about 90% gone by the time I had driven home. Life is good and Dr. Julie is one of God's angels. Thanks Doc!
A great facility with state of the art equipment! Dr. Julie knows her stuff!!!
In my father's 30 years of hearing troubles, he became pretty bitter about audiologists. It is actually quite surprising that I convinced him to come with me to see you. We are both glad that he did! Nobody has come close to the service and expertise you provide. Your ability to explain to him and me the various solutions and financing options was very helpful as well. Thanks again for being so patient with my dad.
After living with tinnitus for nearly a year and trying over the counter meds, a sound machine so I could sleep nights, etc., I saw a commercial for Sound Relief. Although quite skeptical, I made an appointment and will be forever grateful that I did! After evaluating me, explaining tinnitus to me, and answering all of my questions, he had me try a hearing device which felt like a miracle. I immediately relaxed and felt some relief. I have been wearing my devices for about three months now and feel like I have my life back. I can concentrate again, sleep, hear more clearly and no longer feel irritated all of the time. My husband is thrilled! I only wish that these had been available for my father many years ago. We watched him suffer with this terrible condition and were told that there was no help for tinnitus. Thank you Sound Relief for your wonderful clinic and expert help. I highly recommend Sound Relief Hearing Center for anyone who is struggling with tinnitus!
Wow! I can hear!! I have worn digital hearing aids for over 8 years, and I thought my hearing was good with those devices. I didn't hear everything, but I thought that was normal. I still had to have people repeat what they were saying sometimes, and the sound on the television was pretty loud. I love my new Intigas and my new audiologist. Thanks Dr.
I've been to many different audiologists and without a doubt, Sound Relief and the audiologists here are top notch! I first began going to the Golden office and working with Dr. Fasman. That was a fantastic experience and helped tremendously. When I learned there was an office much closer to me, I began working with Dr. Price in the Denver location. These two Doctors of audiology are up there with the best. They take a personal interest in ensuring you have exactly the right devices and the best personalized care. The whole staff are incredible. Veronica at the front desk is incredibly helpful as well. Highly recommend this office and the team! Thank you for helping me hear again!!
This journey was interesting for me to solve my tinnitus problem. The techniques, tools and technologies that Sound Relief provided to me really helped me improve my condition. Very friendly and competent staff.
This is a wonderful place with wonderful doctors!! My tinnitus was maddening, but thanks to them it is controllable now and my world is more peaceful! Thank you!!
From the online assessment to scheduling, to my office visit and treatment plan, the care you experience with the staff, their professional knowledge, and their attention to detail in each step of the process far exceeded all my expectations. Because of Sound Relief, my hope for improved hearing, desire to experience silence, and my journey back to a higher quality of life has been restored!
Treating Tinnitus and Improving Your Hearing Health with Sound Relief

Measure Tinnitus Severity
Take our Tinnitus Impact Survey to determine the severity of your tinnitus.

Hearing Aid Answers
There is a lot of "noise" everywhere about hearing aids, but not a lot of answers. What you need to know.

Tinnitus & Sleep Apps
If you have a hard time falling asleep because of your tinnitus, these apps may offer you some relief.